Product Description
The GP-101ST Gigabit PoE (Power over Ethernet) Splitter delivers both data and electrical power to non-PoE Fast Ethernet or Gigabit Ethernet–enabled products such as network cameras and wireless access points, using an Ethernet cable and without deploying power outlets and electrical cabling. Ideal for remote locations, the GP-101ST allows data transfer between the PSE (Power Source Equipment) and GP-101ST up to Gigabit speeds and delivers power output voltages of 12V, 9V or 5V DC simultaneously up to 100 meters (328 feet). The GP-101ST is easy to install and requires no tools or software while offering the benefits of cost savings as well as flexible network planning and high reliability.

Easy Installation End-to-End PoE Solution
The GP-101ST supports 802.3at/af and proprietary PoE, ensuring compatibility with other 802.3at/af PoE/proprietary-compliant injectors and switches. The GP-101ST is easy to install and requires no tools or software configuration. Just connect the GP-101ST device to any power source device such as a PoE injector unit or a PoE switch to provide power to Ethernet-enabled devices. The GP-101ST offers small to medium business a complete end-to-end PoE solution.

Cost Saving Network Deployment
The GP-101ST supports 802.3at/af ensuring compatibility with other 802.3af PoE compliant injectors or PoE switches. Taking the convenience of PoE, the GP-101ST eliminates the need and costs to place an Ethernet-enabled device such as a wireless access point or a network camera near a power outlet or deploy electrical cabling. For flexible network deployment options, the compact-sized GP-101ST can be mounted on a ceiling or wall up to 100 meters (328 feet) from a power source.

Reliable and Flexible Power Supply
The GP-101ST features PoE short circuit protection to safeguard network devices and supports 5V, 9V or 12V DC output with a built-in slide switch to select the power output according to the requirements of your network device.

APPLICATION DIAGRAM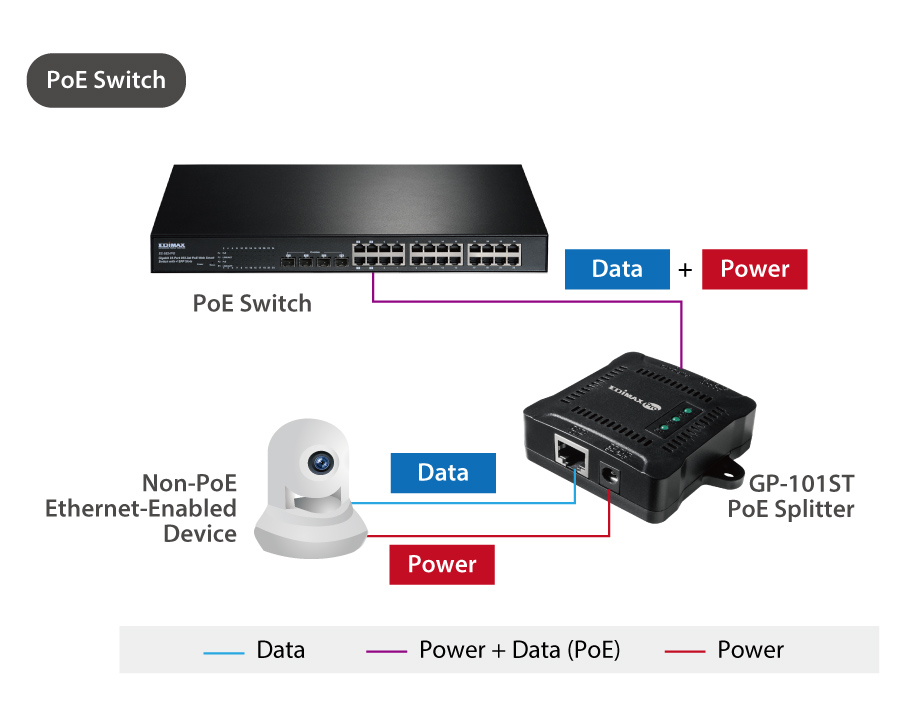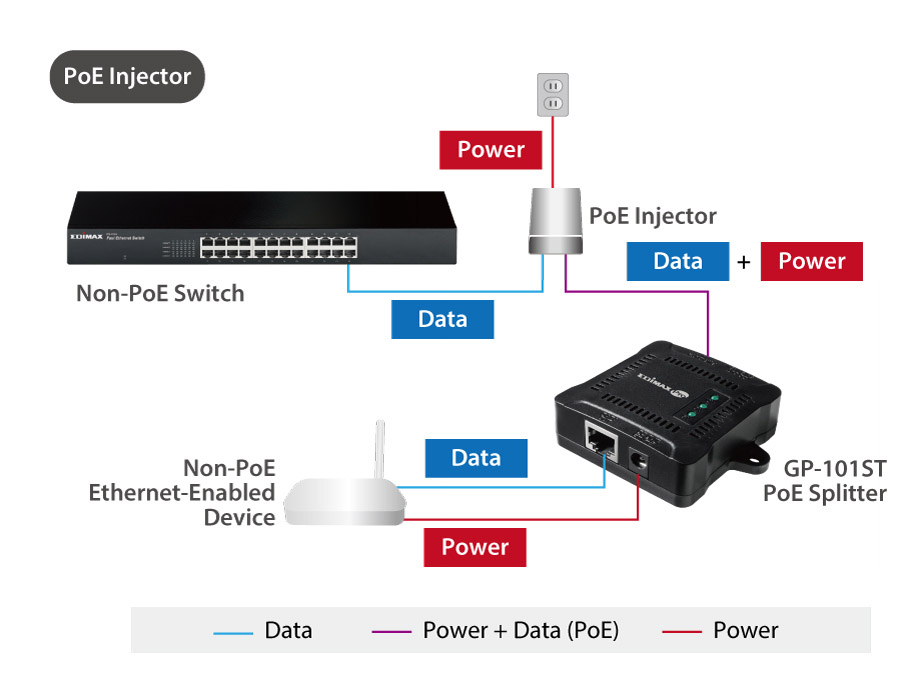 Note:
*Maximum performance, actual data rates, and coverage will vary depending on network conditions and environmental factors.
*Actual viewing resolution and frame rate of network cameras depend on connection speed.
*Product specifications and design are subject to change without notice.