Product Description
The Edimax Pro GS-5008PL is a web-smart switch with 8 Gigabit PoE+ ports. Designed for medium to small network environments, its standard 19-inch 1U rack-mount brackets allow for integration with the most widely used mounting systems on the market. The Edimax GS-5008PL is a superb choice to boost your network environment's performance and efficiency.

IEEE 802.3at/af Power over Ethernet Standard
The GS-5008PL features 8 IEEE 802.3at Power over Ethernet (PoE+) ports which supply up to 30W of electricity per port, and has a total power supply of 150 W to power any 802.3at or 802.3af compliant power device. With PoE detection capability, the GS-5008PL is able to verify whether the connected device is IEEE 802.3at or 802.3af compliant. In the event that a PoE device is not detected, only network data will be transmitted through the LAN cable. The GS-5008PL can be used with different PoE products such as access points, network cameras or VoIP devices and is an effective solution for network environments where power outlets are difficult to access.

Power-Budget User Interface for PoE Device Management
The GS-5008PL features an innovative power-budget UI (user interface) which allows IT managers to monitor the power consumption of each PoE port and the total power consumption of connected PoE devices. Monitor the entire PoE network and assess the total power usage before adding new PoE devices to the network architecture. The power-budget UI also features a remote on/off function for each PoE port, so manual plug/unplug isn't necessary when a PoE device hangs. Simply use the remote power button to quickly reset the device.

Smart Tools for Improved Network Efficiency
The GS-5008PL features smart network monitoring tools that allow for improved network efficiency. Security and management features include bandwidth control and VLAN (IEEE 802.1Q VLAN tagging and port-based VLAN). Using its web-based interface, administrators can set up VLANs to segregate traffic and configure link aggregation settings to create fat traffic pipelines. Additionally, these features offer extra protection on the network edge and the password-protected configuration interface can be accessed remotely.

APPLICAITON DIAGRAM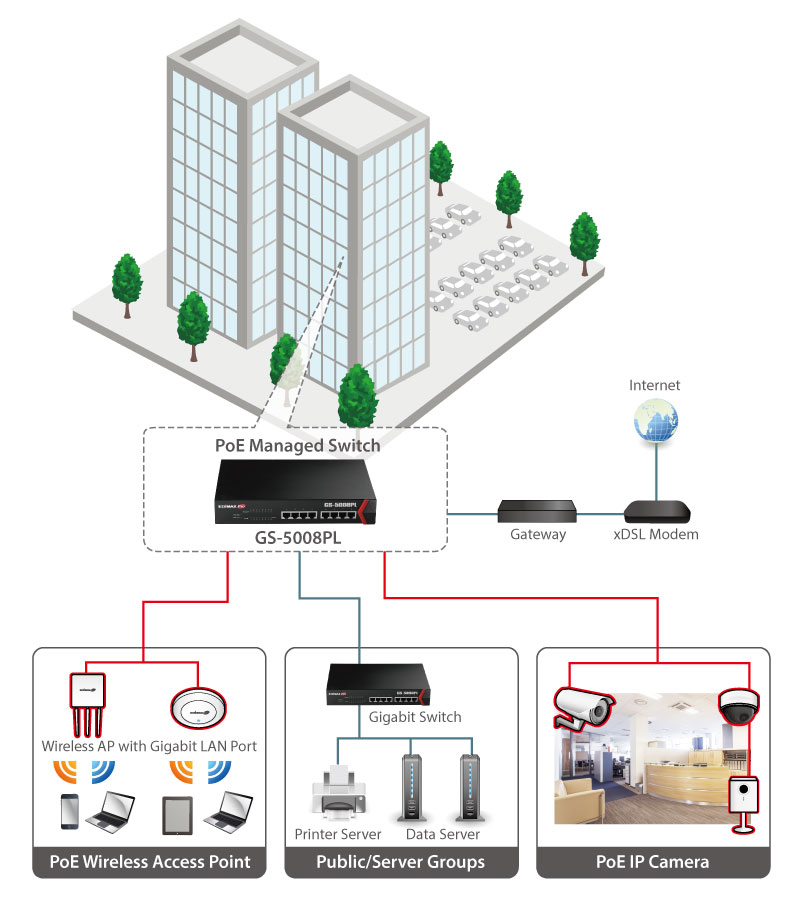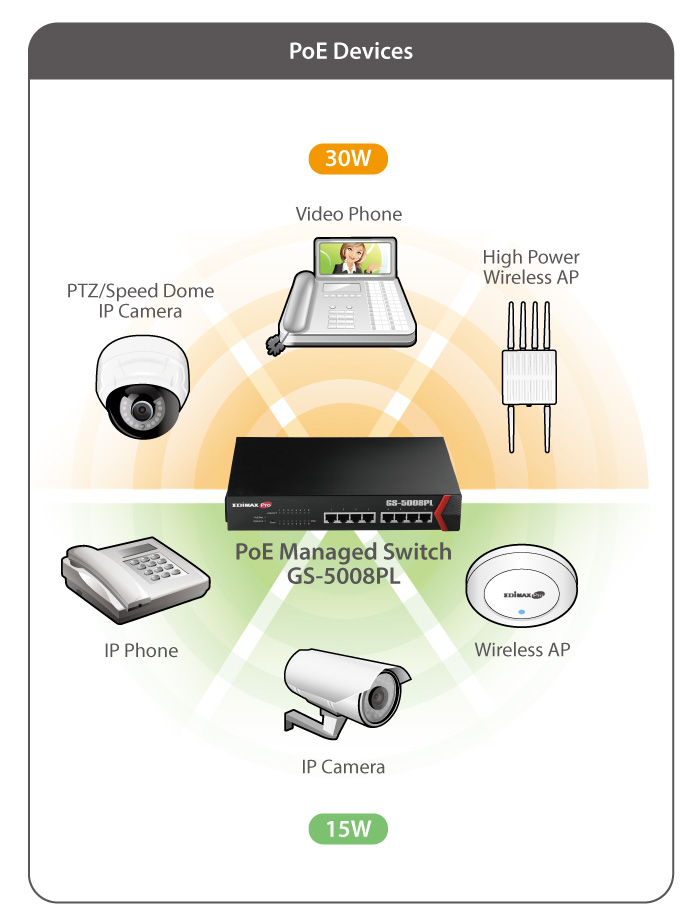 Note:
*Maximum performance, actual data rates, and coverage will vary depending on network conditions and environmental factors.
*Actual viewing resolution and frame rate of network cameras depend on connection speed.
*Product specifications and design are subject to change without notice.